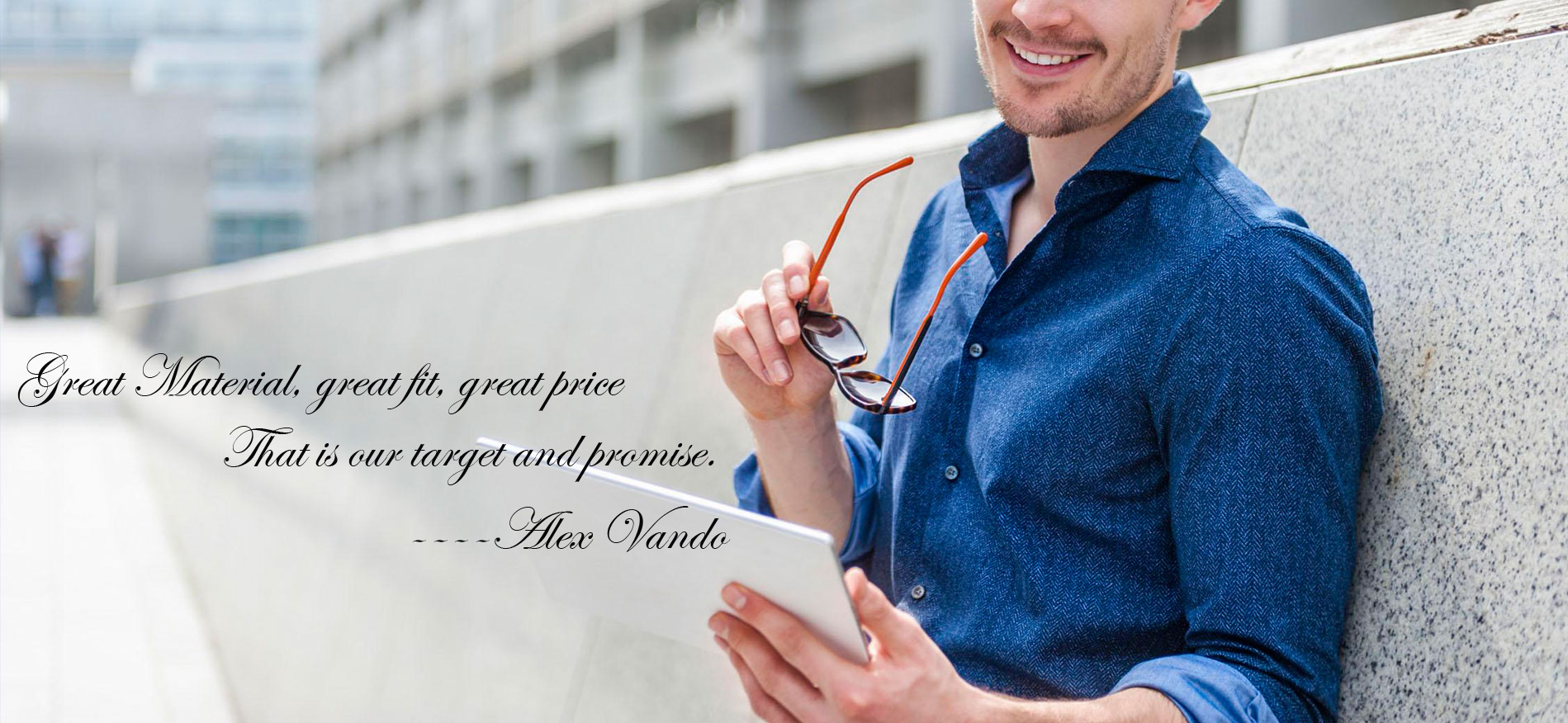 ALEX VANDO is a fresh and unique collection for Mens Shirts, with a touch of European flair.
This collection allows men to be up to date recognizing it as one of their most favoriate menswear brand
they are made of super soft 97%cotton and 3% spandex, sport flex. The details inside collar, cuff and placket
makes the shirt very fashionable, you can stand out the crowd easily.
apart from nice long sleeve designs, we also have short sleeve designs in this collection, don't neglect them!
Below is the detailed size spec. for reference: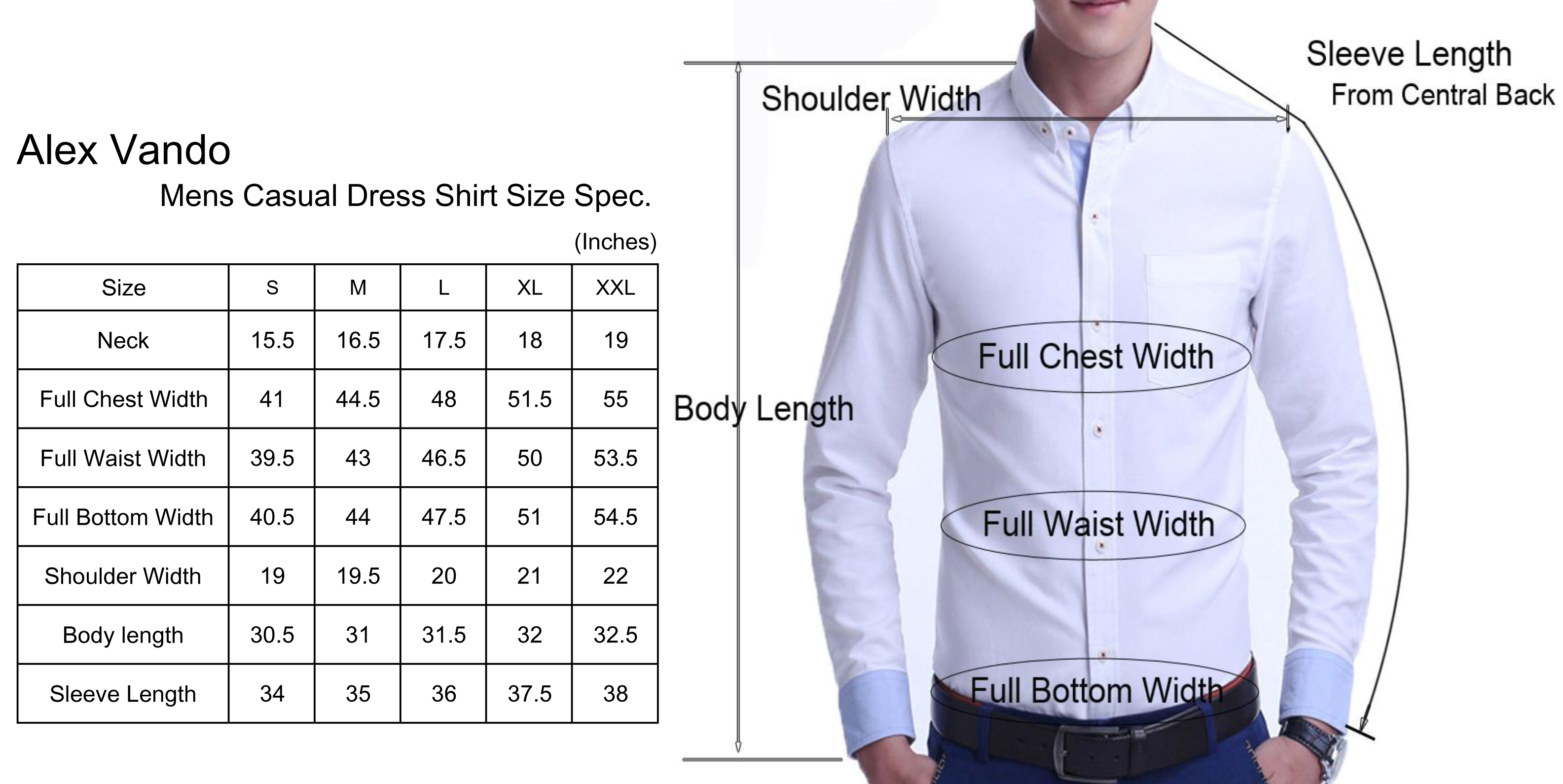 Below is the Fitting Comments from Buyers:
Size S:
2018-3-29 Buzz Smith, 5'7" 142lbs
Based on the comments about it being a bit on the "Slim Fit" side, I ordered a Medium. Returning and ordering a Small.
(5'7" 142 lbs)
----------------------------------------------------------------------------------------------------------------------
Size M:
2018-4-8 Saurabh, 5'7" 155lbs
I had been looking for a semi-formal shirt for myself. I am 5'7 tall and weigh 155 lbs. I got a Medium one and its a perfect fit for me. This shirt looks good on regular jeans as well as on polyester or soft-jeans pants. The collar is unconventional and stylish. The fabric also feels like of a high quality product. I am visiting my cousin this summer, so I am probably buying
another one to gift him. This shirt has my highest recommendation. It is not very expensive, either. Total bang for the buck!

2018-8-14 Kerry Fox, 5'10" 150lbs
This is a very nice shirt. It fit as expected and is made of very nice material, has a little stretch to it. I am 5'10" and about 150 pounds and the medium was a perfect fit. Would recommend to anyone looking for a nice shirt as a very affordable price!

2018-9-14 Curtis Humphrey, 5'10" 170lbs
The shirt fits great , I ordered a medium and I am 5'10" 170 . Very stylish and good quality.
----------------------------------------------------------------------------------------------------------------------
Size L:
2018-7-26 Kaylee, 5'10" 230lbs
Great shirt. My husband is 5'10", 230 pounds with a 44 inch chest, and he fit into a large like it's a custom Taylored shirt.

2018-8-2 Melody, 6'7" 190lbs
I'm slim 190lbs.6inch7 and these shirts fit perfect. I work at a restaurant and get compliments from all of my coworkers. I also wore these shirts to presentation and my classmates thought it looked very nice.
----------------------------------------------------------------------------------------------------------------------

Size XL:
2018-7-24 From Rob, 5'9, 185
I love this shirt. Fit EXACTLY as expected. 5' 9" 185 somewhat muscular build - XL. Great quality, great looking shirt. Would order again.

2018-8-17 From C. Adams, 5'10, 230
Fits great, looks great! 5'10" 230 ordered XL. I'm very pleased with this purchase and plan to order more styles from this company

2018-4-10 From Shelly Moore, 6'3, 185
Handsome shirt! Fits as expected and looks great on my husband. Great value. Bought white and light blue. He loves them. 6'3 ,boughT Xl And fits like a fitted casual dress shirt. Great look
----------------------------------------------------------------------------------------------------------------------

Size XXL:

2018-10-11 From Noel6, 5'9, 250
Great quality for the *. I'm 63 years old and I've always did my best to look my best. Now that I'm over weight at 250lbs and only 5'9" tall it's sort of a challenge to look as good as I'd like. Wearing dress shirts with jeans or slacks casualy (untucked) has been a problem with the shirt being much too long. My neck size is 17 inches and arm length is about 36 inches. How ever this shirt is great fitting. I wore it Saturday night out to dinner with wife and family, and got 4 complement. Wife, 20 year old grand daughter, my daughters mother in law and a lady standing outside the Resturant. I'm back! Lol. Oh, I got the XXL.

2018-9-10 From Michael Cohen, 6', 245
Great style shirt I'm a really big guy didn't expect it to fit probably but it did I'm 245 at 6 foot tall and I had room in the shirt I thought it look nice.

2018-3-15 From Kristen Landers, 6'2, 230
Bought for my 6'2 230 lb husband for our upcoming cruise. Fits great and he loves it, fitted but not tight,sleeves and body nice and long, Highly recommend